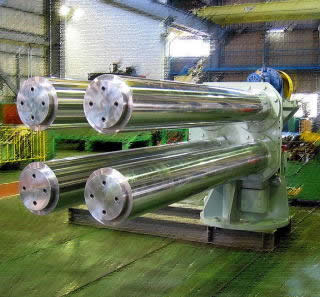 【What is Rotary type Blade Exchanger ?】

Rotary type Blade Exchanger equips four arbor shafts, two for preparation of next process blades-set and two for taking out space of post-process blades-set.

The main body rotates 90 deg for preparation of blades & spacers outside the line and four arbor rotate 180 deg to exchange blades & spacers of post and following process.

The blades and spacers exchange can be smoothly as following procedure Post-process blade-set is moved from slitter cutter shaft to 1st and 2nd shaft of rotary method blade exchange then Blade Exchanger rotates 180 deg and prepared blade-set at the 3rd and 4rd shaft for next process is loaded to cutter shaft.

■By modernizing slitter stand

This equipment can be introduced to existing slitter line by modernizing slitter stand.
→ Products